It was a little over a year ago that I attended a chocolate tasting class outside of Boston. It was fun, and I learned a little about chocolate, its ingredients, and varieties. Then we did some tasting. Cool.

At the time I was just starting to branch out from eating Hershey's and trying brands like Vosges, Café Tasse, Dolfin, Pralus, Chuao, and Green & Black's. I liked them all, and once in a while I've been buying good brands either online or in Harvard Square (Cambridge, MA) when I'm there.

It seems like I'm riding the wave of Americans who are buying more sophisticated chocolates, and now grocery stores and pharmacies are offering better selections and trying to cater to people like me. But unlike those people, I distrust the Hershey's Reserve, the Russel Stover, and the others (even Ghirardelli). I'm okay with Lindt. I do buy it – it's readily available, and I like the small squares, even if it is sort of mass-produced.

Just last week I was in the checkout line at CVS and I noticed they had a number of little Starbuck's chocolate boxes filled with tasting squares.

According to Cybele at The Candy Blog, Starbucks and Hershey's are collaborating in making this product line. I've also noticed recently that Hershey's bought Scharffen Berger chocolates and I guess somehow they also own the organic Dagoba line of organic chocolates which a lot of people like.

I bought the Starbucks variety pack with milk, dark, and mocha dark chocolates. The box says they are "bite sized excursions to new realms of chocolate and coffee." How tempting! The package weighs 2.64 ounces, and it was a little expensive at $4.99 for the 15 miniature tasting squares. But I decided to indulge.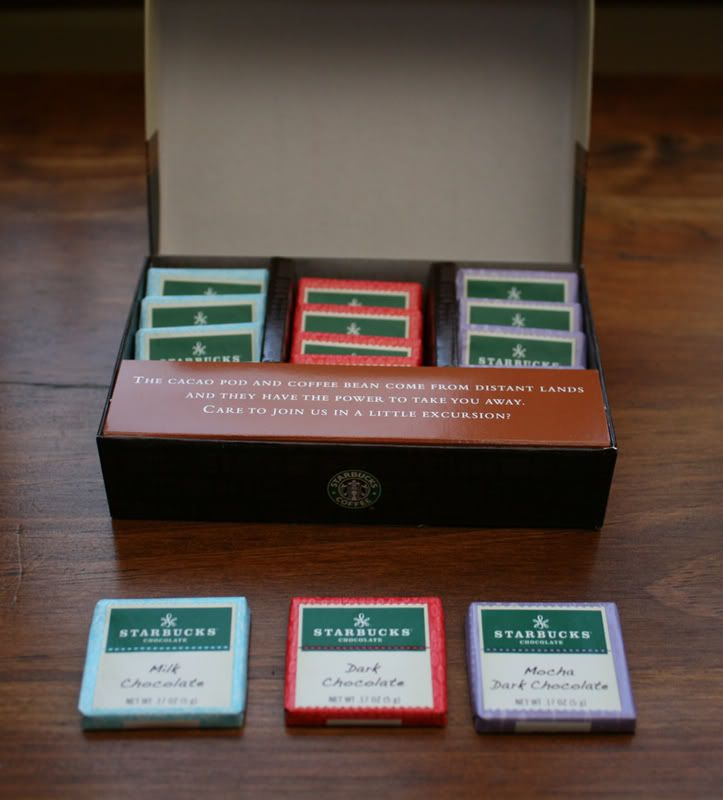 While a little on the expensive side, for the most part, I enjoyed them. I'm really not fit to judge the milk chocolate ones. I'm much more into dark chocolate, and I only got the milk because it was part of the package.

The dark was nice and smooth, melted well on my tongue, and I liked the flavor. The squares are really thin (perhaps even wafer-thin), so there wasn't much "snap" which people will tell you is important when judging chocolate. That is because "snap" indicates a good balance between cocoa and butter. Dark chocolate should snap easily and make a clean break. That all got me thinking that maybe it's not good to produce the squares in such a thin style. It's also hard to let it melt on your tongue because it's so thin that it melts almost immediately.

Let me just say that all tasting squares are on the thin side, but these were thinner than most. Oh, but id did have a pretty picture on the chocolate of a chocolate pod growing on a plant.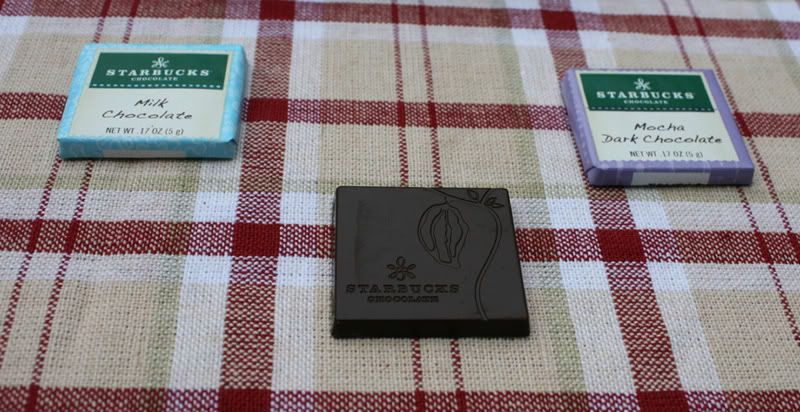 It's kind of funny, because at first taste I liked the mocha dark the least. But in the end, I think I liked it the most! It's got ground-up coffee beans in the chocolate, which throws me. I like a smooth chocolate experience, and this one is grainy. But maybe because the chocolate is so thin, it needed that extra texture. It had good flavor.

Would I buy these Starbucks tasting squares again? Not the milk, but I might try the others again. And I guess there are other flavors that I didn't see and they sound interesting: passion fruit tea, chai, and citron flavored chocolate.

I had another visit to CVS today.

I stopped there to drop of a prescription on the way to work and I got a bar of Green & Black's 70% dark. The petite 1.2 ounce bar cost $1.49. It has 12 tiny little squares that break apart. The squares are chunky – thick and small.

I probably haven't had any of Green & Black's chocolate for close to a year now, so I was looking forward to it when I opened the little bar and placed a tiny square on my tongue to melt. The melting was good, the chocolate was very smooth, but the taste was all wrong. It was totally burnt. I don't think I'll ever buy Green & Black's again! How sad.

Did I become a chocolate snob?

No! I still like M&M's, so it can't be that. In fact, I love M&M's. I love the candy coating. I have a little routine where I put the M & M in my mouth, standing up between my top and bottom teeth. I gently cut down, and the coating breaks away from the chocolate. I crunch it in my mouth and then let the little drop of chocolate melt on my tongue. It's a moment of pure heaven. And because there's a bunch of little M&M's (even in a little fun-pack), I get to have that experience over and over before the package runs out.

Maybe that bar of Green & Black's was a bad batch? Or, more likely, I guess I just no longer like their chocolate. That was a surprise.