One of the few cookbooks that survived my rampage was Vegetable Heaven by Mollie Katzen. I used it more than the others, and was unable to part with it.
The author, Mollie Katzen, had a public television show that was the companion to the cookbook. Joe and I had just moved to Nashua, NH together and I had my tiny little galley kitchen (my kitchen now isn't much bigger). She inspired me that day when she made this recipe on the show and I just had to have the book.
Over the years, I made the recipe so many times that I became confident to make it without a recipe, making slight changes to suit my taste.
I always look for thin asparagus. I think that it's more tender, and less fibrous. When you cut the asparagus, leave the tips in tact!
A time saver is to buy the already chopped and toasted pecans available at Trader Joe's. Gosh, I love those things. BTW, they do it with almonds too.
If I had it on hand, I'm sure that 2 Tbs. fresh tarragon would be better than the dried stuff I use.
Asparagus in Warm Tarragon-Pecan Vinaigrette
adapted from Mollie Katzen's Vegetable Heaven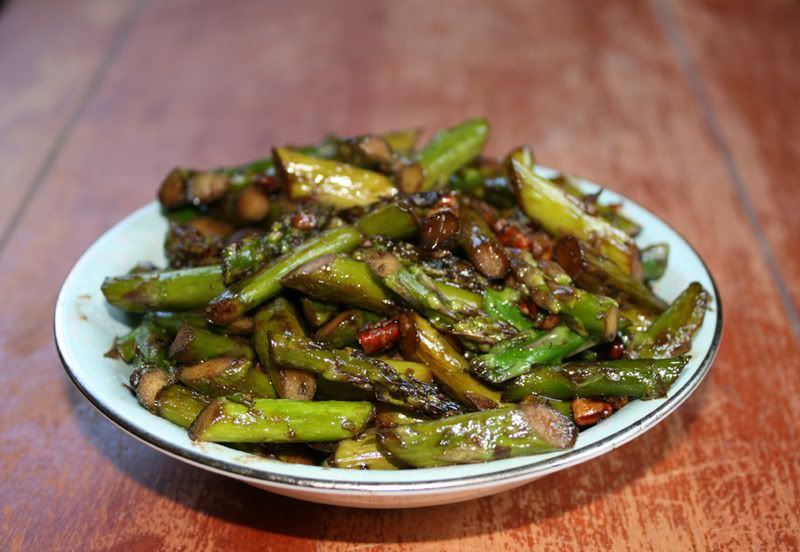 One bunch of fresh asparagus, cut on a diagonal into 1" pieces

2 Tbs. extra virgin olive oil

salt and pepper to taste

1-2 Tbs balsamic vinegar

1 Tbs sugar

1/4 cup pecans, chopped and toasted

2 tsp. dried tarragon
Mix the vinegar, sugar, and tarragon together and set aside.
Sautee the asparagus on a high heat till just tender (3-5 minutes). Add the vinegar mixture. Let it sautee for one more minute. Toss in the pecans and it's ready to serve.