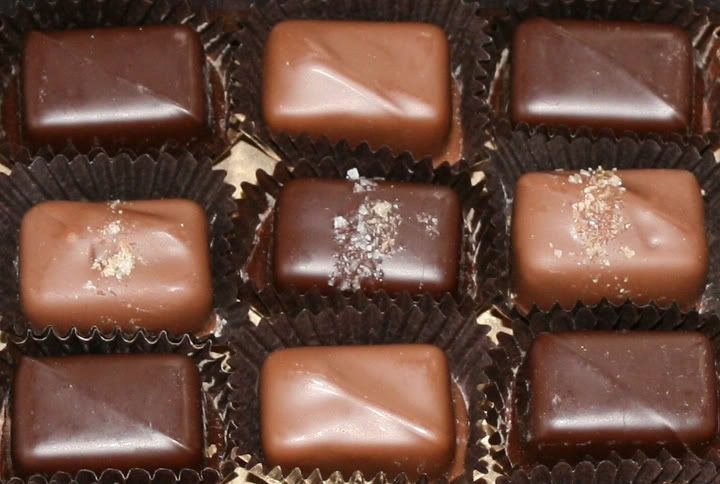 Ordering really nice, expensive chocolates makes me feel special. Okay, I know that I'd be a healthier person if I had replaced the first part of that sentence with the words "working out at the gym," but it's the chocolates that do it for me. My latest thrill came from Fran's Chocolates.

Fran's Chocolates is impressive right from the start. Their Website (
http://www.franschocolates.com/home.php
) is kept current and displays beautiful pictures of seasonal choclates. Right now Spring is approaching and their site pictures beautiful Easter baskets with pastel spring colors, chocolate bunnies, an pretty bows.

I immediately hit the truffles link. Fran's offers milk chocolate truffles, imperiale truffles (liquid-filled), dark truffles, and a truffle assortment where I can see a few white truffles in the picture among the milks and darks.

Dark chocolate is my thing, so I clicked on the link. I was so happy to see a key to the types of truffles that come in the assortment. There's plain chocolate ganache (in both 56% and 66% cocoa), raspberry, orange oolong tea, espresso, and single malt whiskey! I had to have that.

I also visited the link to the caramels. They offer salt caramels, milk and dark chocolate caramels, and caramel assortments; some of which contain nuts.

When you order the truffles, you can choose Occasion gift boxes that combine their different products, but I decided to get two separate boxes so I could have more of what I wanted and none of what I didn't!

Packaging does matter when you are spending what you consider to be a lot of money on fine chocolates (when compared to choclates you buy in the pharmacy). It adds to the experience and to an immediate good feeling when you open the FedEx package. Fran's will make you feel special. For the chocolate assortments, different assortments have different packaging. My truffles came in a lemongrass colored package with a pretty green satin bow. They also offer collections packaged in leather boxes and a washi box which has Asian designs and colors and was designed by a local artist.

As for cost, I got an 18-piece assortment for $24. I also ordered the 15-piece assorted caramels for $22. I believe my shipping was $14 for 2nd day air. I don't have experience ordering caramels, but I can tell you the $24 for the truffles actually wasn't a bad price. I have seen smaller chocolates for more money per chocolate in plenty of other places.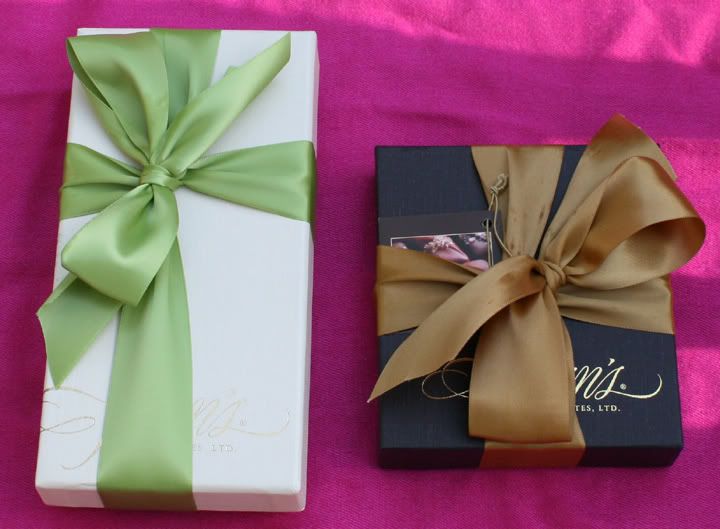 Was it worth it? YES!!!!! In general, this was superior chocolate. It's the kind of chocolate that you savor in your mouth and let dissolve because it's so good you don't want to lose that flavor too quickly. The ganache on the inside is dense. You can see it's texture in this photo: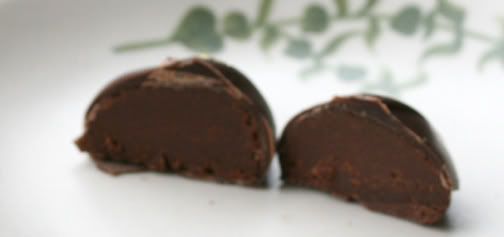 Here's the lowdown on the different flavors.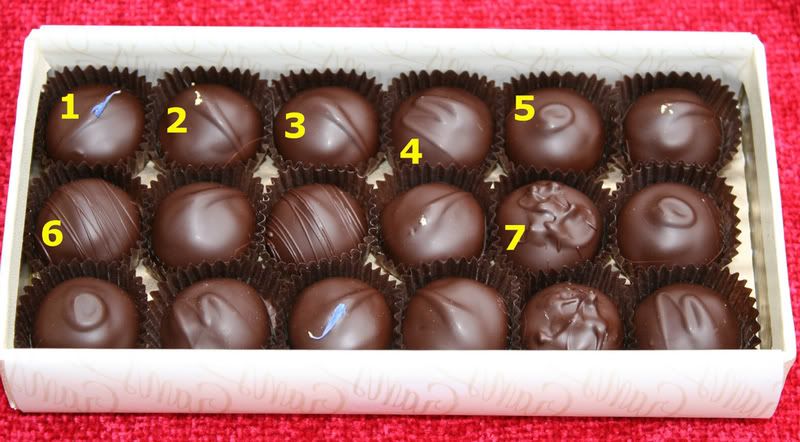 #1 (Oolong)
The chocolate ganache definitely has a mellow oolong flavor. It was good, but I think I like earl gray and chocolate more. But they do get extra points for the pretty little lavender petal on top. In the entire box, the oolong flavor was my least favorite.

#2 (66% Bittersweet)
The chocolate flavor is intense and somewhat fruity. I hadn't looked at the key yet when I first tried a little nibble. As it sat on my toungue, I could note a somewhat fruity flavor to the chocolate. Is that called fruit notes?


#3 (56% Dark Chocolate)
Their ganache is so soft, sweet, and delicious. It is velvety smooth and has fantastic flavor.

#4 (Dark Chocolate Espresso)
Tastes like a cup of Starbucks inside that luscious ganache. Quite nice!


#5 (Orange)
This truffle had the perfect amount of orange flavoring. I enjoyed it very much.


#6 (Raspberry)
I like this, but I wish the raspberry flavor was a little stronger overall.

#7 (Single Malt Whiskey)
Not being a whiskey drinker, I never knew there was single malt whiskey. But if this is what it tastes like, perhaps I'll try it some time.


Caramels
Some were dark, some were miklk, some had gray salt, and some had smoked salt.

The caramel is the same in each type and it has the flavor of butter toffee. It's an enjoyable experience and tastes fantastic!

As for the consistency of the caramels, they are semi chewy. When comparing it to something like Kraft caramels, it is very soft. But it is harder than the Charles Chocolates caramels I ordered last month. These hold their shape when cut into.